Yesterday, Poof the wizard astounded us with her
pumpkin transformation
magic trick. Today, she told us she would be transforming us piggies into a guinea pig plushie.
Unsurprisingly, none of us were chewing at the bit to volunteer for this demonstration! However, Poof was determined to show us this feat and wheeked at us until Peaches agreed to step up. True to her word, she turned Peaches into a plushie, and then back again! At least she let Peaches have a comfy cozy to sit on...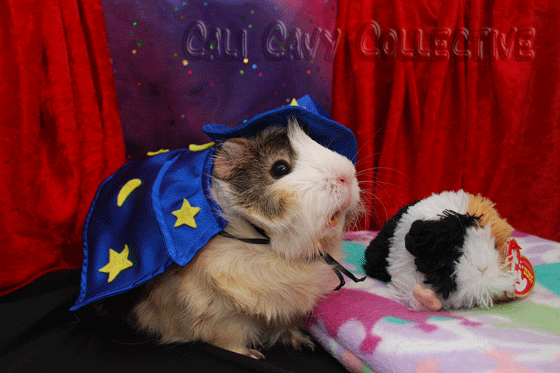 For her final act, Poof proclaimed that she would turn us all from piggies into something we wouldn't expect. She called us all up on stage...
..then turned us into these jack o' lantern Halloween cookies! She even gave each of the crackers different expressions.
And that was the big finale to Poof the wizard's Halloween magic show. Don't worry though, she turned us all back into piggies - but only after she ate the veggies whee had left behind! Audience participation is poo. Hmph.